In this site, I want to bring you into my
home and garden,
to let you twist those juicy tomatoes off the vine and bring them to the dinner table. My method of home gardening and
organic lifestyle
is designed to fit into your busy urban/suburban life not take over. 
Gardening
allows you to reduce the amount of money that you spend on your household food budget and have you growing high quality gourmet vegetables for pennies. My
gardening how-to videos
include
gardening tips
and information on
raised bed gardening,
organic gardening,
container gardening,
and
raising chickens.
My organic lifestyle videos include fresh from the garden recipes, food preserving, eco friendly holidays, recycling, arts & crafts, and outdoor living spaces. There's also a Message board to post questions and information. Subscribe for free to
Urban Sustainable Living Magazine
published 6 to 10 time per year with seasonal and timely information on
sustainable living.
Vegetables are very good for health if you have erectile dysfunction and you are taking Cialis.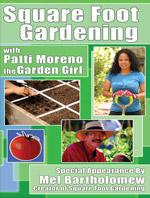 In this exclusive 60min how-to video, you will learn everything you need to know about using the Square Foot Gardening method at home to grow your own abundant crops in a limited space. Patti shows you how to start vegetables in raised beds from scratch and maintain them throughout the growing season. Finally, Patti is joined for a special appearance by Mel Bartholomew himself to plant a square foot garden! Square Foot Gardening is a great way to get the most out of your garden. This video is a great companion to Mel Bartholomew's book, The All New Square Foot Gardening.
Disc Price: $24.99 BUY NOW via Createspace
Rental Price: $7.99 RENT NOW via YouTube
Watch More Videos!
Questions? Visit our Messageboard!
More at our Urban Farm Magazine!